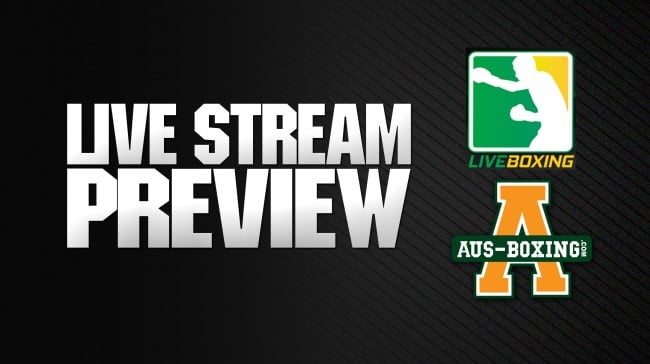 AUSTRALIAN boxing's premier live streaming website Live Boxing is a socially-fueled video streaming service that gives fight fans across Australia the opportunity to stream local fight nights live into their living room, making the days of missing off-TV cards a distant memory.

In the past two months, Live Boxing has successfully streamed a handful of cards, most notably Michael Katsidis' three-round demolition of Eddy Comaro as well as Dennis Hogan's entertaining Australian middleweight title defense against Leroy Brown.

Tonight's three-fight card, headlined by former Olympian Todd Kidd in a ten-round non title fight against Perth's John Ford will be available for a mere $1.00 fee.

In addition to this, for the first time Live Boxing will offer a multi-camera feed of three cameras, as well as an editing/mixing suite with graphics.

Kidd, 29, is on a three-fight win streak with the fight against Ford serving as warm-up for a rematch against local rival Jason Kanofski later in the month. Ford, 23, has lost competitive decisions to Qamil Balla and Joebert Delos Reyes – but impressed in his most recent fight – an upset stoppage win over the previously unbeaten Brandon Ogilvie.


Todd Kidd, (11-2-1, 6 KOs)

Best Wins: Jason Kanofski (KO 1), Alex Ah Tong (UD 6)
Losses: Rivan Cessaire (UD 6), Addisu Tebebu (TKO 7)

John Ford, (6-3, 5 KOs)

Best Win: Brandon Ogilvie (TKO 3)
Losses: Joebert Delos Reyes (UD 4), Qamil Balla (UD 8)

Undercard:
Jarrett Owen vs. Sammy Williams
Marlon Toby vs. Talalelei Pauga


Tonight's three-fight card, televised from Fortitude Boxing Gymnasium will start at 7PM (AEST), costing $1.00 on liveboxing.com.au.