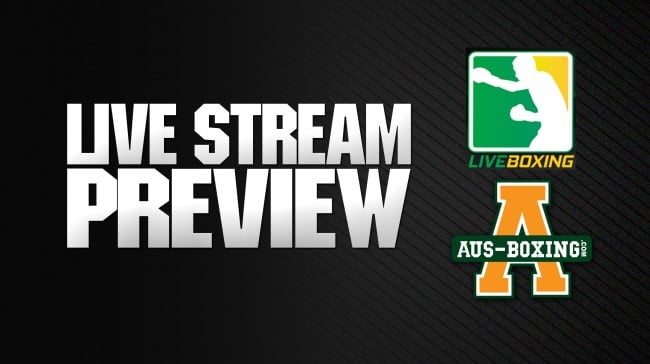 TONIGHT from the Newcastle Panthers Club in New South Wales, undefeated prospect and reigning Australian super featherweight champion Kye 'Frenzy' MacKenzie faces his sternest test as a professional when he faces tricky veteran and former WBC top ten world rated Matt Garlett.

The fight was originally pencilled in as a defence of MacKenzie's Australian title. However, Garlett and his team made it known to promoter Rob Fogarty that he would not be able to weigh inside of the super featherweight division, although the fight will remain over ten rounds.

On paper, Garlett, 29, is without doubt the most credible fighter MacKenzie, 22, has faced in the paid ranks. Despite his relative inactivity, Garlett (11-2, 6 KOs) has traded blows with some talented fighters in the form of Sipho Taliwe, Ryan Sermona and Corey McConnell, with the latter two handing him his lone blemishes.

Garlett has shown many times before, that on his best day, he is capable of testing some of the premier fighters domestically in the super featherweight division. With that said, Garlett has a tendency to leave himself open when he counters.

The West Australian based Garlett hasn't fought in just over six months, with his last outing being the upset loss he suffered at the hands of Sermona, who dethroned Garlett of his recently acquired WBC International super featherweight strap.

"He's a very strong and powerful puncher, but if I can stay in it and move him around and take him into the deeper rounds, as he's never gone past six rounds before, I can win," Garlett said to the Newcastle Herald's Josh Leeson.

"I've fought for the WBC title and won on points in twelve rounds, so the experience is there. I can get over him. I've just got to go in with a clear mind and use my speed to keep away from his power."

MacKenzie (10-0, 8 KOs) has had a rather smooth ride as a professional. MacKenzie last saw centre ring in May when he defended his Australian title against a resurgent Waylon Law in a fight that many assumed would be close fought and competitive. However, MacKenzie was destructive in scoring a one-sided sixth round knockout.

While it may be relatively early in the piece for MacKenzie in terms of establishing his superiority domestically, he appears to have all the tools to follow former gym mate Will Tomlinson in terms of becoming a marketable next generation fighter to lead the line of talented prospects coming through.

"No disrespect to my opponent, but I've got a job to do and I've got to get it done, that's it," MacKenzie said to the Newcastle Herald at last night's weigh-in. "We've got no grudge. It's just I'm coming through the rankings and I'm here to knock him down and take my ranking and stamp my authority on Australian boxing."

"I'm hoping to have it over inside eight,'' he said. ''I don't want to be too cocky, but inside eight would be great."


Full Fight Program:

Main Event:
Kye MacKenzie vs. Matt Garlett

Undercard:
Valentine Borg vs. Jerope Mercado
Kyron Dryden vs. Daniel Roy Maxwell
Ozan Craddock vs. Alex Ah Tong
Weber Sou vs. Mitch Therle
Matt Stapleford vs. Joe Rea
Michael Upton vs. Ben Burrage
Blake Minto vs. James McDonald
Michael Hamilton vs. Alister Lardner
Richard Smith vs. Nick Browning


Tonight's card from the Newcastle Panthers Club will cost $9.95 on liveboxing.com.au.