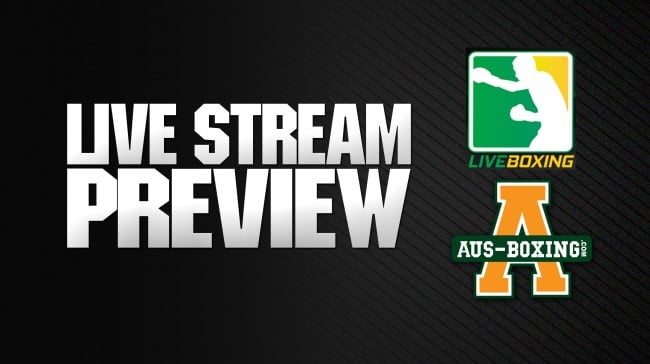 ANGELO Di Carlo's Ace Boxing promotions returns to the familiar surrounds of the Mansfield Tavern in Brisbane, with a ten-fight card headlined by Brett W Smith, who will face rugged Filipino import Jerry Nardo in his final fight as a professional.

Smith, 33, who has held state, national and regional honours in a respectable six year career is looking to bow out in style against, Nardo, 22, who is looking to score an upset in his second visit to Australia.

Currently on a three-fight win streak, including wins over Non Sithsaithong, Joey Williams and Rivo Rengkung, Smith (18-2-1, 9 KOs) will be hoping to add the vacant WBU lightweight title to his trophy cabinet. Nardo (19-4, 10 KOs) has won two consecutive fights since dropping back-to-back decisions to both Jessie Cris Rosales and Corey McConnell.


Full Fight Program:

Main Event:
Brett W Smith vs. Jerry Nardo

Undercard:
Balazs Varga vs. Maletino Lakopo
Nathan Briggs vs. Tafa Misipati
Adrian McCann vs. Rex Regalado
Jordan Bell vs. Rhys Sullivan
Ben Kuhanez vs. Cyril Currie
Mark Ramirez vs. Paitoon Jaikom
Miles Zalewski vs. Arnon Yucharoen
Kori Farr vs. Lee Dittmar
Sam Banney vs. Amir Ghasemi Tabar


Tonight's card from the Mansfield Tavern will cost $8.95 on liveboxing.com.au.